We've Got Your Home Covered
5/5
"They are on time, keep to their price, and better than you would expect."
JC Insulation | Your Local Insulation Contractor
In new home construction, JC Insulation Services provides a complete thermal energy envelope in accordance with local building codes, Department of Energy recommendations, local utility company recommendations and customer preferences.
Additionally, JC Insulation Services provides complete sound insulation for ceiling as well as all interior walls including bathrooms, laundry rooms, mechanical and equipment rooms, even your media and theater rooms.
WHAT ARE THE DIFFERENT KINDS OF INSULATION?
If you have decided that you need new insulation in your home, office, or building, you should know that JC Insulation Services can help.
Although we are a newer home insulation company, we're backed by 25 years of experience. You can count on our team of insulation experts to help you decide what kind of insulation you need. Here are a few popular options:
FIBERGLASS INSULATION
Fiberglass is made by heating and spinning silica sand into fibers.
It is lightweight, inexpensive, and very strong. It lasts for a long time and is easy to place in any nook and cranny that other materials might not fit into. It is the most common kind of insulation in homes in the United States.
CELLULOSE INSULATION
Cellulose is made of recycled paper fiber.
Cellulose is composed of 75-85% recycled paper fiber, usually newsprint waste. While 15% is a fire retardant such as boric acid or ammonium sulphate, cellulose has the highest recycled content of any insulation currently available.
FOAM BOARD INSULATION
Rigid foam provides an exceptional R-value per inch, at a lower cost than fiberglass insulation. For the best results, we just need to ensure that your foam boards are protected from water damage and that your electrical wiring will not be affected by the material. Our team of insulation contractors in Baltimore will help make sure you get the best value and performance from your foam board insulation.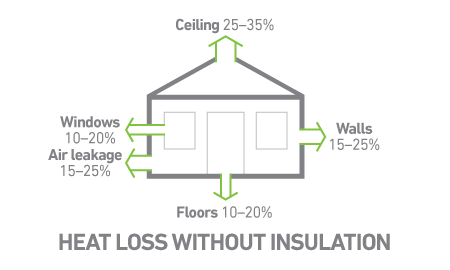 Credit: https://www.sustainability.vic.gov.au
We can insulate the following space:
Exterior foundation walls
Crawl space walls
Basement floors
Concrete Slabs 
Ductwork
Interior walls
Attics and flat ceilings
The average U.S. family spends $1,900 a year on home utility bills. Heating and cooling your home account for the largest portion (54 percent) of your utility bills.
Proper insulation lets you save more and makes better use of the energy and heat in your house even as much as 20 percent of your energy bill can be saved by good roof insulation.
Insulation can reduces the costs of heating and cooling by over 40 percent in most homes. Wall insulation can reduce this loss by 2/3 and make your home more comfortable for you and the family.
What are the Benefits to Insulation?
When your home is well-insulated you can feel a dramatic difference in the comfort of your home–and see a dramatic decrease in your energy bills. Insulation helps keep your home more comfortable all year round, and can greatly reduce your energy costs. If you feel your home is not well-insulated, it would be a good idea to have your current insulation assessed to see if improvements can be made. If your home has warm and cold spots, it is likely that you could benefit from new insulation.
If you are looking for a trustworthy insulation company in Vancouver, WA, contact us today at JC Insulation Services. We pride ourselves on our excellent customer service and integrity on every project.